ABOUT THIS WEEK'S TORAH PORTION
This Shabbat's reading introduces us to the Mishkan, the portable sanctuary. It seems to come out of left field; there was no hint of such a structure in the last few parashiyot. Actually, this week's parashah is out of order in the sense that the command to create a sanctuary probably came as a reaction to the Golden Calf incident, which we will read about in three weeks. Although many biblical scholars doubt the Mishkan ever existed, other scholars have noted the similarities between the Mishkan and the war ten of Rameses II (see below)—similarities only possible if the Mishkan did exist.
QUESTIONS FOR TORAH STUDY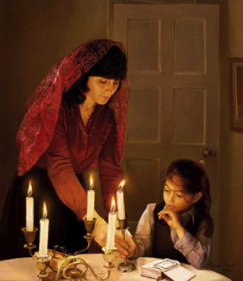 SACRED TIMES
Shabbat Candle Lighting for Friday, February 2, is at 5:15 p.m.
Shabbat ends Saturday night with havdalah at 6:19 p.m.
This Week: Shabbat Parashat T'rumah
Sh'mot 25.1-27.19, pages 485-498
FIRST ALIYAH: Among the several names for a synagogue is mikdash me'at, or "small temple," suggesting that the synagogue succeeds the Mishkan and the Temple that followesd it. Is this correct? Explain your answer.
FOURTH ALIYAH: "Planks" of acacia wood are to hold up the Mishkan's walls, and they are to be held upright by silver sockets. What is a plank, and why silver sockets, not gold?
The haftarah, M'lachim Alef 25.1-27.19, begins on Page 500.
Next Week: Shabbat Zachor Parashat T'tzaveh
Sh'mot 27.20-30.1, pages 485-498
Additional Reading: D'varim 25.17-19
FIRST ALIYAH: What is the point of Moshe having to command Israel to bring old for lightiong lamps that have not even been created yet?
SEVENTH ALIYAH: Moshe clearly is in this week's parashah, but never by name. This is the only time from Sh'mot Perek Alef on that this is so. Why is his name missing?
The haftarah, Sh'muel Alef 15.1-34, begins on Page 500.
The questions below are discussed during each week's Torah reading.
They are offered here and in the Shabbat Booklet,
to allow those who wish to participate to prepare in advance.